Pulse of America Reader Research
Pulse of America Reader Survey: The latest Reader Research updated September 30, 2011.
Fresh Research

- Completed September 30, 2011

Over 100 Research Questions

- Purchasing plans, Social Media, Advertising

Affordable

- Research packages for $195

Proven Sales Results

- $5.3 million in new revenue

Free Sales Support

- Prospecting Program, Sales Training Webinars

Free Executive Summary

- Summary of Pulse of America Research
and Much More
Current Reader Research

INFORMATION RESEARCH QUESTIONS
Reader purchasing plans over next twelve months


- Over 450 business types purchasing plans

- Over 800 products and service purchasing plans

Social media – competitors


- Facebook, Google AdWords, Craigslist use

Advertising effectiveness


- Retail, classified, ad inserts

EFFECTIVE - PROVEN SALES RESULTS
Publications across the US have sold $5.3 million using Quarterly Pulse of America data
Clients include Birmingham AL, Grand Junction Co, Roseburg OR, Woodbury NJ, Tupelo MS and many more across the USA.

AFFORDABLE
Daily reader statistics - $195
Paid weekly reader statistics - $195
Free publication/shopper reader stats - $195
Newspaper website visitor stats - $195
Alternative Publication reader stats - $195
Local Business Publication reader stats - $195
Regional / State research statistics (see map) - $195

READER RESEARCH DETAILS
Fresh: Survey completed September 30,2011
Sample: Over 5,000 respondents across the United States
Pulse of America Survey: Updated quarterly since Q4 2009

WHAT YOU GET
Reader Survey Results: Pulse of America, Q3 – Completed September 30, 2011


- Over 100 reader shopping questions

Over 200 pages of shopping plans for hundreds of sales opportunities
Provided in hard copy or PDF download

FREE SALES SUPPORT
Free: Invitation to exclusive webinar by John Marling "How to turn this economy into a sales opportunity" using fresh reader research.
Free: Prospecting program


- Sales reps can identify hundreds of new advertiser opportunities

- Unlimited 90 day use license

Free: Executive Summary


- Summary of Pulse of America research.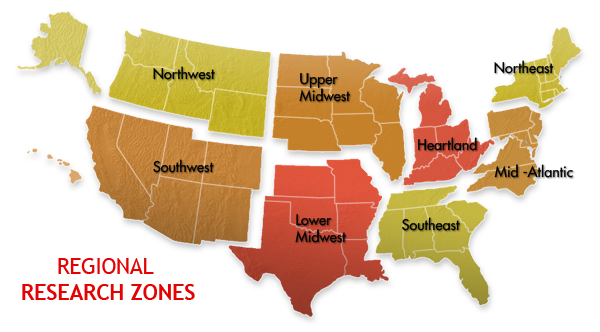 Northwest Zone:
AK, ID, MT, OR, WA, WY
Southwest Zone:
AZ, CA, CO, HI, NM, NV, UT
Upper Midwest Zone:
IA, IL, MN, ND, NE, SD, WI
Lower Midwest Zone:
AR, KS, LA, MO, OK, TX
Heartland Zone:
IN, KY, MI, OH, WV
Northeast Zone:
CT, MA, ME, NH, NY, RI, VT
Mid-Atlantic Zone:
DE, MD, NC, NJ, PN, VA
Southeast Zone:
AL, FL, GA, MS, SC, TN
"Both ad reps and advertisers have confidence that that the national Pulse of America reader shopping research data is representative of our readers. We have sold approximately $100,000 a week using Pulse of American research it is credible to both my staff and local area businesses."
Ms. Jane Katona
Birmingham News, Birmingham AL
TOTAL SATISFACTION GUARANTEED
Money refunded by Pulse Research if not totally satisfied.